Our Story
Server Set Up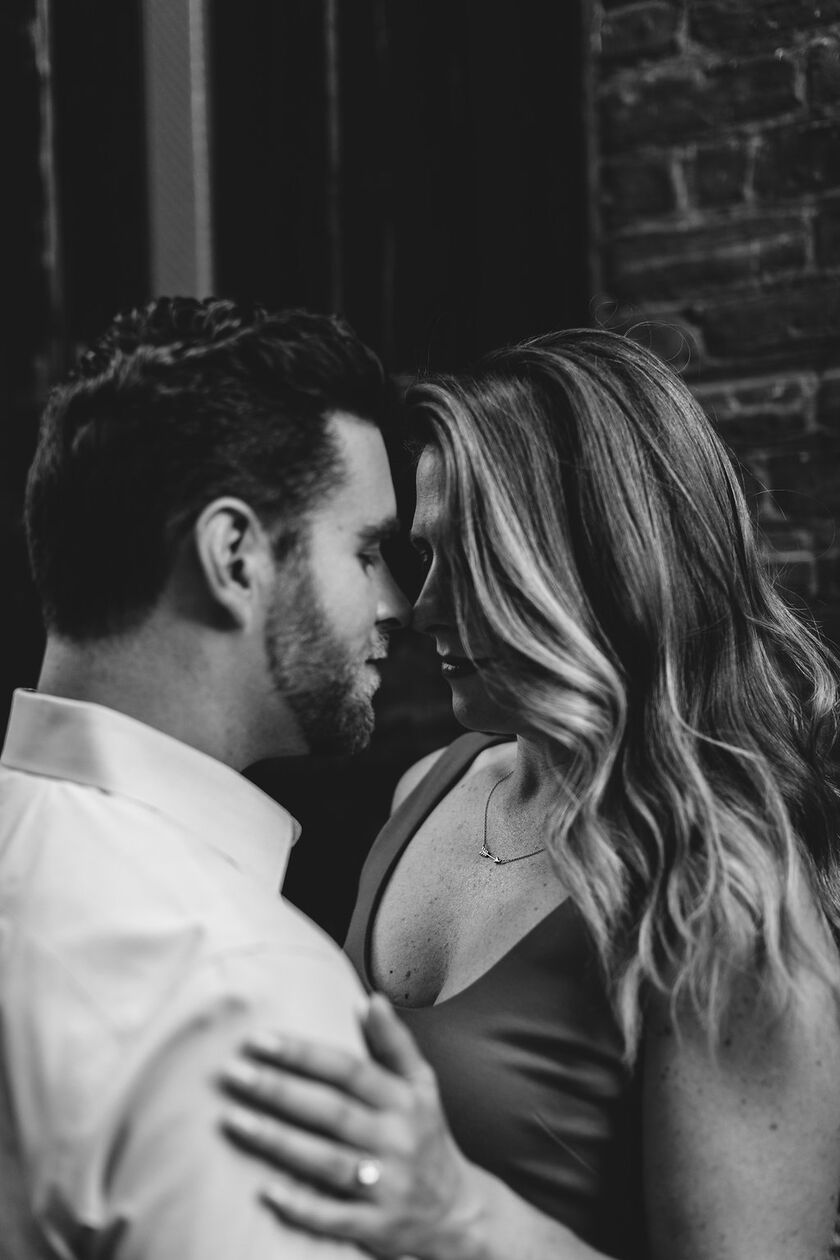 A sunny spring day in 2012 brought two strangers to the same patio for drinks with friends. While Sam waited for his guest to arrive, the server felt the urge to tell Sam that the two women (one being Maria) at the table next to him wanted him to come over and say hello. Little did he know it was completely unexpected and unsolicited. After a few minutes of conversation, Sam asked Maria for her number and she replied, "I'm busy...here's my email." Not turned off, Sam replied, "I'm busy too" and happily accepted.
The two spent that summer together getting to know one another, having late nights and morning coffee breaks and even a trip to Sam's home town of Boulder, Colorado for the couples favorite band, The Lumineers. By Christmas, the two were falling for each other and a Valentine's weekend spent in Turks & Caicos is where the two said "I love you" – laying the foundation for a relationship that would blossom over the next few years, and ultimately lead to their engagement on November 5th, 2016.

The Engagement 11.5.16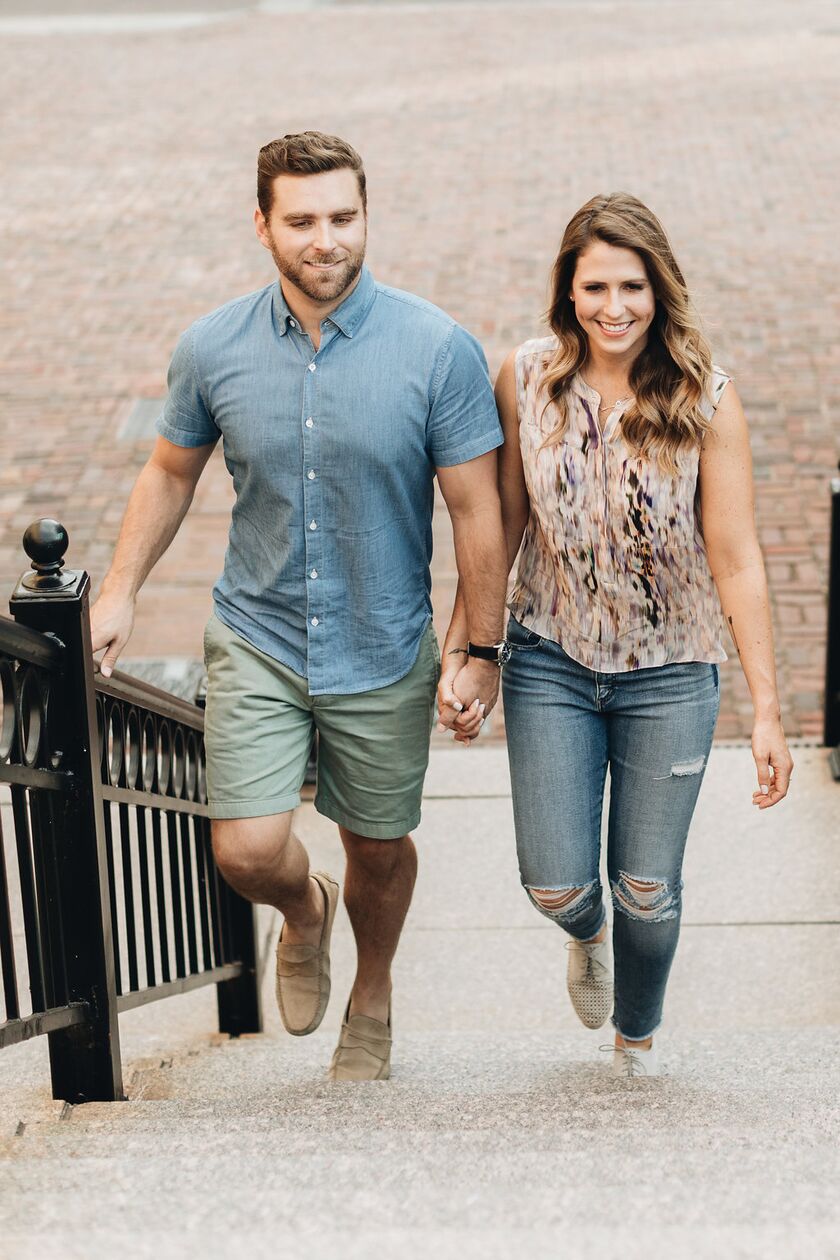 After years together, Sam had many opportunities to propose, and Maria never missed the chance to comment on how perfect the setting was – whether it was a trip to San Francisco, their weekend get-away spot in Milwaukee, or his hometown in Colorado. It became common for her to pat Sam's pockets down in these instances, so you can bet that the day of the proposal Maria was on to him, or so it seemed. The day started off as a typical Saturday with plans to take their dogs, Stella & Pearl for a long hike. They set out for scenic drive to Taylors Falls, MN and as soon as they hit the road, Maria patted Sam's pockets with a grin. As they began the hike Maria commented on what a beautiful place this would be to get engaged, always teasing him, she never let up. It was an unusually warm day and Maria encouraged Sam to remove his vest but he couldn't as he was carefully concealing the ring yet she hadn't a clue. The couple stopped at a lookout point where others were gathered and Sam managed to stall to allow them to sit down. Fumbling for the ring (since he had gotten too hot and needed to remove his vest) Sam was sure Maria was on to him, but she was somehow clueless. When Sam finally took a seat next to Maria she jokingly said "So, do you have anything you want to ask me?..." Shortly after, Sam got down on one knee and asked Maria to marry him - she said yes.
The Wedding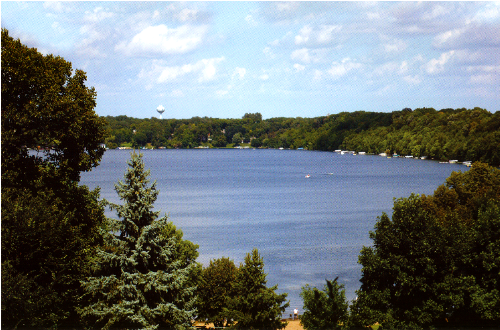 Saturday, September 23, 2017
4:30 PM
Attire: Cocktail
Ceremony and Reception
Private Residence on Christmas Lake
5590 Shore Road Excelsior, MN 55331
Sam and Maria will tie the knot lakeside in front of their closest friends and immediate family. Parking will not be available at the venue. Sam and Maria have chartered a shuttle service that will leave the Hewing Hotel at 4:00pm sharp and transport guests to Christmas Lake, where Sam and Maria will welcome everyone with a cocktail prior to the ceremony at 5:00pm. Following the ceremony, guests will enjoy cocktail hour and then gather for a family meal and dancing. The shuttle will run back-and-forth throughout the evening, with the final shuttle departing at 10:30pm from Christmas Lake to Hewing Hotel for a nightcap.
This event will be held outside on the lawn. Please wear appropriate shoes and clothing.

For local guests who do not wish to utilize the shuttle service, please use app-based transportation (e.g., Uber or Lyft) for transportation to and from the event.

Other Events
Groom's Welcome Dinner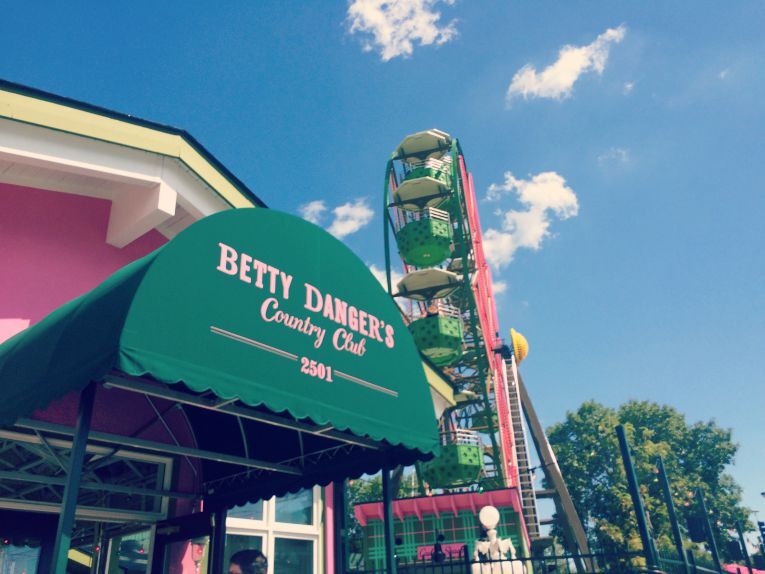 Thursday, September 21, 2017
7:30 PM
Betty Danger's Country Club
2501 Marshall Street NE Minneapolis, MN 55418
For family, all out-of-town guests, the bride's tribe and the groom's crew - please join us for dinner at the "club". Preppy attire encouraged.
All wedding guests welcome to join at 9:30 pm for cocktails and amusements.

Honorary Wedding Party
Ryane Walker - Maid of Honor
Jenny Kampp - Honorary Bridesmaid
Kris Wessinger - Honorary Bridesmaid
Lisa Malmgren - Honorary Bridesmaid
Lisa Stanchina - Honorary Bridesmaid
Maryn Miklas - Honorary Bridesmaid
Taylor Brown - Honorary Groomsman
Benny Swan - Honorary Groomsman
Rick Thomas - Honorary Groomsman
Brian Head - Honorary Groomsman